By Julie / earthtrekkers.com
Published by Rentalcars1.com on Feb 14, 2020
Having a car provides a lot of freedom and convenience when traveling through Europe. You can travel at your own pace, stop frequently to take in the view, and get to some places that are difficult to reach with public transportation. However, there are some things to know about renting a car in Europe. Knowing these differences in advance can save you some money and maybe even a big travel headache.
Renting a Car in Europe
#1 Choosing a Company
We always book our rental car in advance. During the planning phase of the trip, Tim checks the rates for the major companies and chooses the one with the best price. It takes extra time to price out five companies, but prices can vary widely depending on promotions and supply and demand, and it has been worth it to do this extra work in order to save money.
We don't have a preference for one particular company, we just want the best deal.
If you don't like the idea of pricing out the costs for multiple companies, you can use Auto Europe, which will find you the best rates for your trip. It's similar to using Kayak when searching for the best deals on plane flights.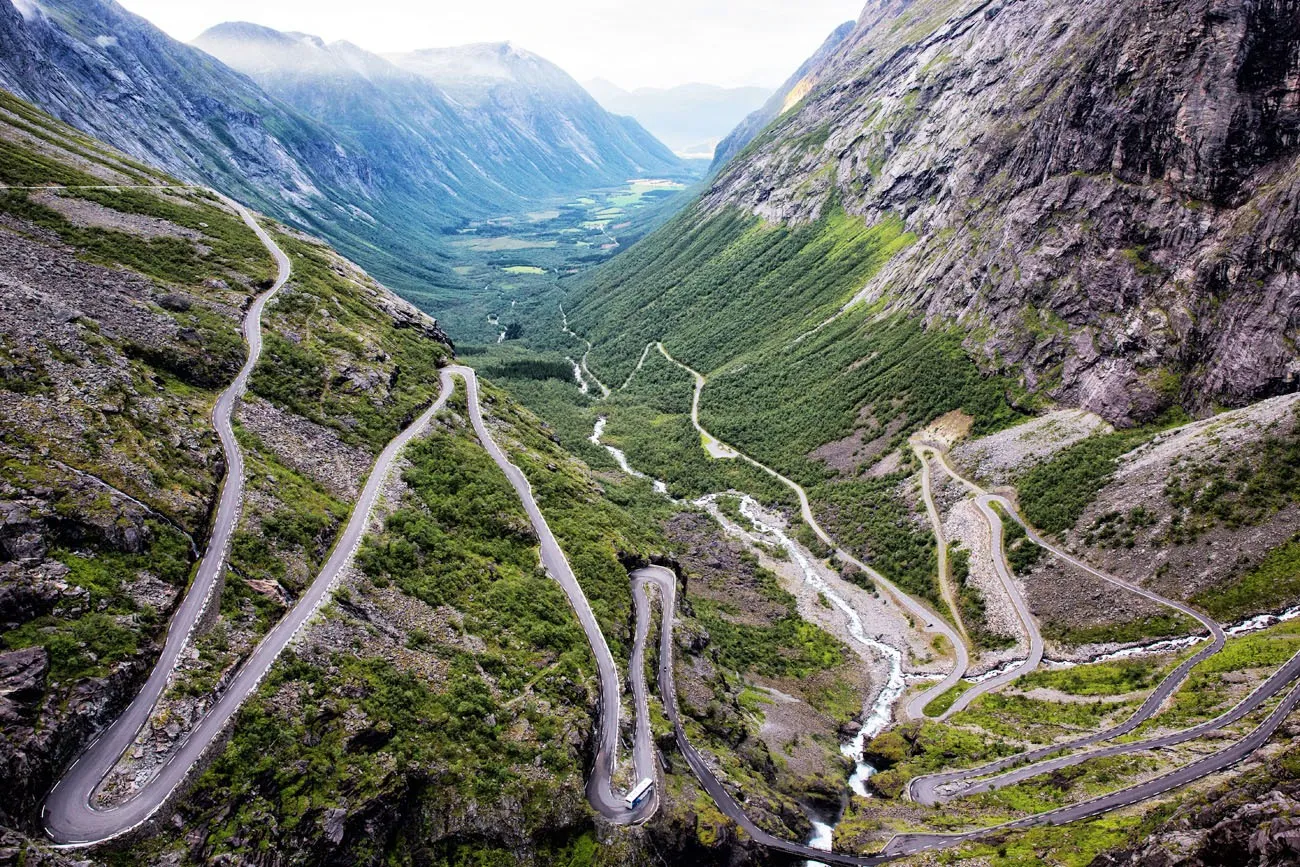 Trollstigen, Norway
#2 Factors that Affect Rental Car Price
There are obvious factors that determine prices, such as the duration of the rental period and the size of the vehicle. But there may also be some factors that you are not aware of.
Manual vs. Automatic
Manual vehicles are much more common in Europe than automatic vehicles. You can rent an automatic but these cars can cost as much as 50% more than a manual vehicle.
Different Pick-Up and Drop-Off Locations
Sometimes it makes sense to pick up a car at one location and drop it off at a different location.
For example, if you are driving through southern France, you may pick up a car in Nice, road trip through the French Riviera and Provence, and drop the car in Avignon.
Dropping the car off at a different location saves you a lot of time and unnecessary backtracking. However, there is a drop fee and this usually costs between €100 and €300, but it can be a lot more (up to €1000), particularly if you are picking it up in one country and dropping it off in another country.
When getting an estimate for different pick-up and drop-off locations, you have to decide if the extra money you will spend is worth saving the time and extra driving.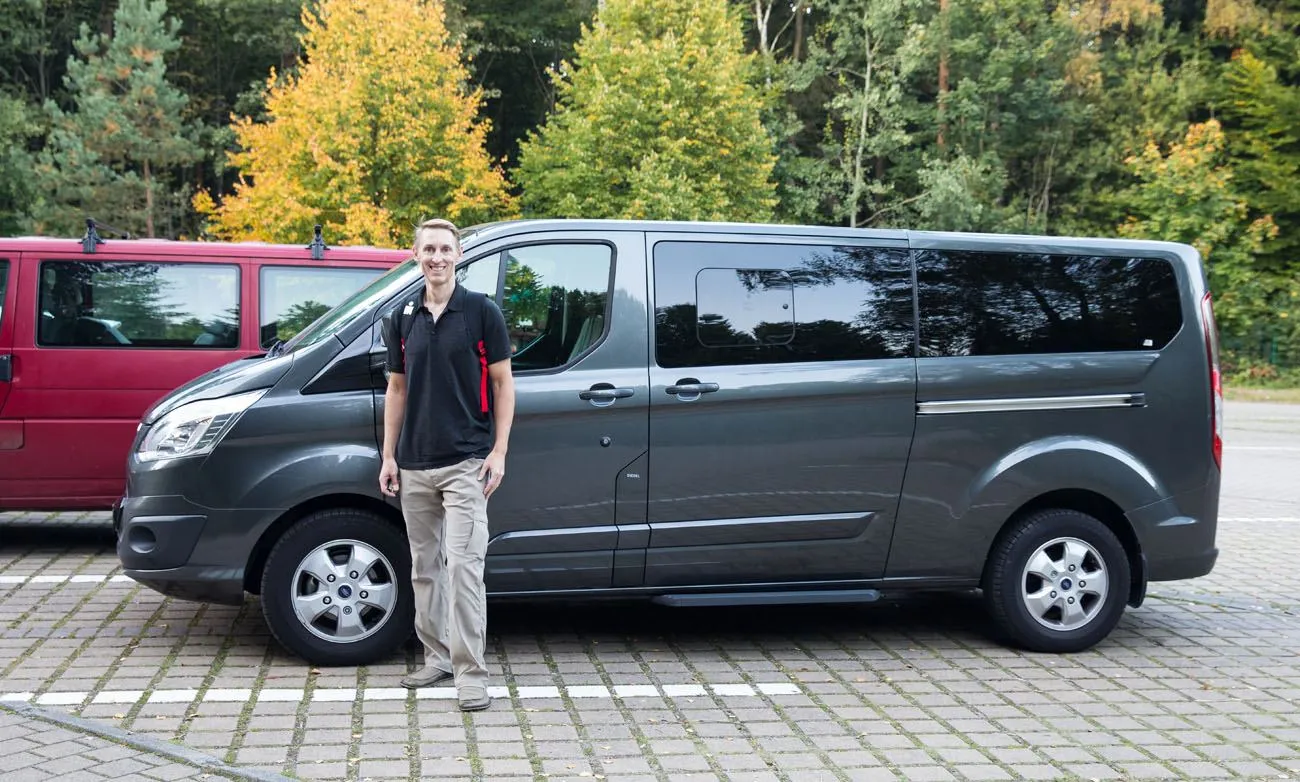 Our "mega" van in Germany. The smaller shop in town did not have the compact car that we reserved, so Tim drove this beast on the Autobahn.
Picking up a Rental Car at an Airport or Train Station Adds an Extra Fee
Sure, it may be convenient to pick up a rental car at an airport or train station, but this usually comes with an additional charge, as much as €25 to €100 depending on the country. To save money, consider renting from a shop in town.
With that being said, renting at an airport or train station does have several advantages. It's very convenient to get off the plane, pick up your car, and drive to your hotel. Secondly, the car rental facilities are much larger at airports and train stations. They have a higher volume of cars, so you're less likely to be stuck waiting for a car or stuck with a car class you didn't reserve (like in the photo above). And finally, those smaller shops also have reduced hours. Don't expect to pick up or drop off a car before 9 am or past 5 pm at many of these locations.
It's up to you to decide if the extra fee at the airport or train station is worth the convenience.
Cross Border Fees
Some rental car companies will charge you extra for driving their cars into certain countries. When driving through western Europe this is generally not an issue. However, you can be charged extra when driving into or between non-EU countries. This fee ranges from €15 to €50.
#3 You May Not be Permitted to Drive into Certain Countries
Some companies may forbid you from driving into specific countries, typically those that are not in the EU. Countries that can make this list are Croatia, Serbia, Bosnia & Herzegovina, Albania, and Montenegro. However, these rules are always changing and can be very particular to certain rental companies.
#4 Make Sure you have an International Drivers Permit
When you go to pick up your car they will ask to see your confirmation number, driver's license, passport, and credit card. And they could potentially ask to see your International Drivers Permit (IDP).
An IDP translates your Driver's License into 10 different languages. It contains your name, photograph, and driver information. You can get an IDP at AAA for $20.
It is important to know that an IDP does not replace your Driver's License or passport; it supplements your Driver's License.
Countries that require you to have an IDP are Spain, Germany, Italy, Greece, Slovenia, Poland, Hungary, Austria, and Bosnia & Herzegovina. You may not be asked to show your IDP when picking up your rental car in these countries, but it's still a good idea to have one just in case.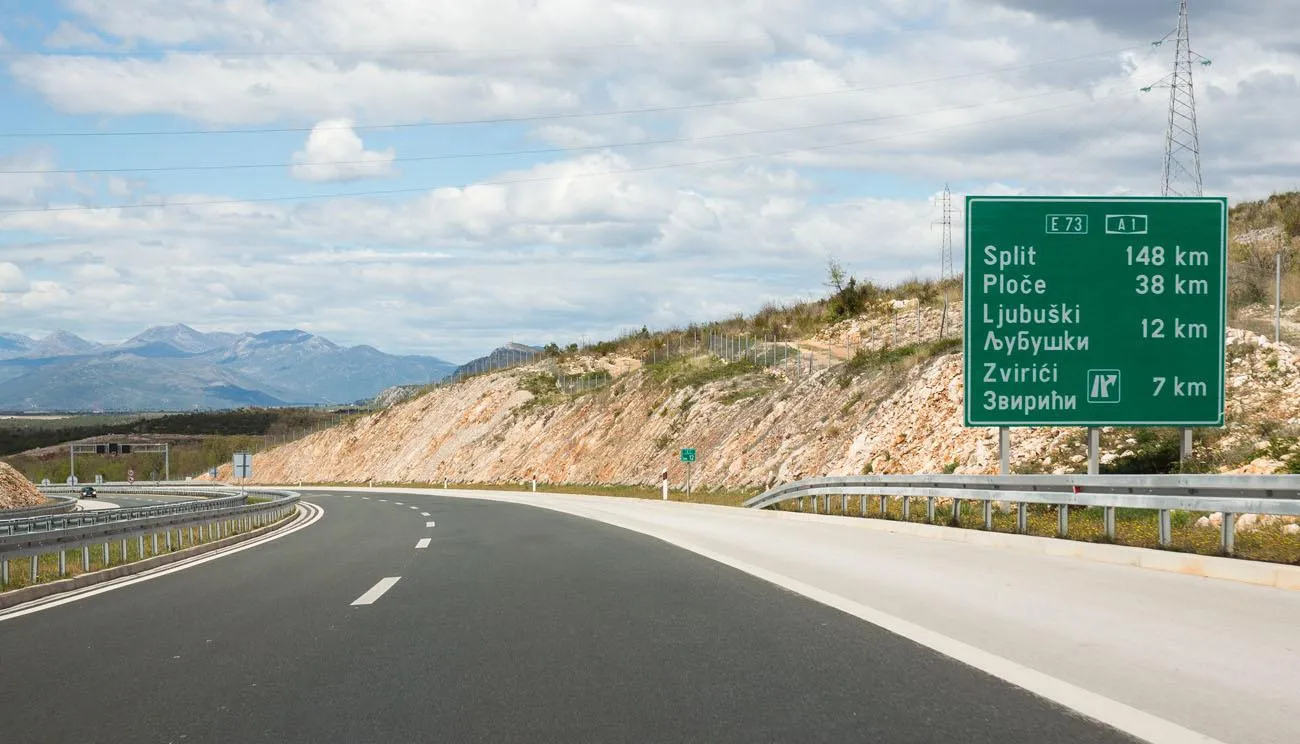 Driving through Croatia
#5 What's a Vignette, You Ask?
A vignette is simply a sticker that you attach to your windshield that shows that you have paid the highway taxes. If you rent a car in a country that requires a vignette, you will already be covered. However, if you drive a rental car into a country that requires a vignette, you will have to purchase it.
Countries that require vignettes include Austria, Czech Republic, Slovakia, Romania, Switzerland, Hungary, Slovenia, and Bulgaria.
Vignettes are sold at border crossings and nearby gas stations. You can purchase a vignette for €3 to €10, depending on the country. If you fail to purchase a vignette, you could be fined 60€ or more.
#6 And then there's this thing called the "Green Card"
A green card is a cross-border insurance card that proves that your car has at least the minimum level of insurance required.
Most countries in the EU do not require you to have a green card. It's required in just a handful of countries, including Bosnia & Herzegovina, Albania, and Montenegro, just to name a few. We needed a green card for our trip on the Balkan Peninsula and we spent $2.34 USD per day for the green card.
This is issued by your rental car company when you make your reservation.
#7 Use a Credit Card that Offers Rental Insurance
Some credit cards offer car rental insurance. We always reserve our rental cars using our Visa card because it provides collision damage insurance so we do not pay extra for the rental car company's insurance.
#8 About Filling the Car with Gas
What Americans call "gas," Europeans call essence, petrol, or benzine. Regular unleaded gas is labeled as "95" at the petrol stations.
There's a very good chance that you will be adding diesel to your car, rather than unleaded gasoline. When you pick up your rental car, confirm what type of "gas" you will need to add.
Prices are listed in liters, so it may look cheap, but one gallon of gas costs roughly €7 in Europe.
#9 Driving on the Left in the UK and Ireland
If you are accustomed to driving on the right side of the road, making that switch to the left can be intimidating. At first, it takes a lot of concentration. Roundabouts, busy city streets, and entrance ramps onto highways can be nerve-wracking. All of a sudden you feel like a newbie driver again.
Give it some time and it does get easier, and rather quickly. Just remind yourself which side of the road to stay on as you make a turn and as you enter a roundabout. It can be helpful for the passenger to remind the driver as well.
The other thing to know about driving on the opposite side of the road is that the driver's seat will also be on the opposite side of the vehicle, forcing you to shift gears with your opposite hand. If shifting gears with your opposite hand concerns you then make sure you select an automatic car when you make your reservation.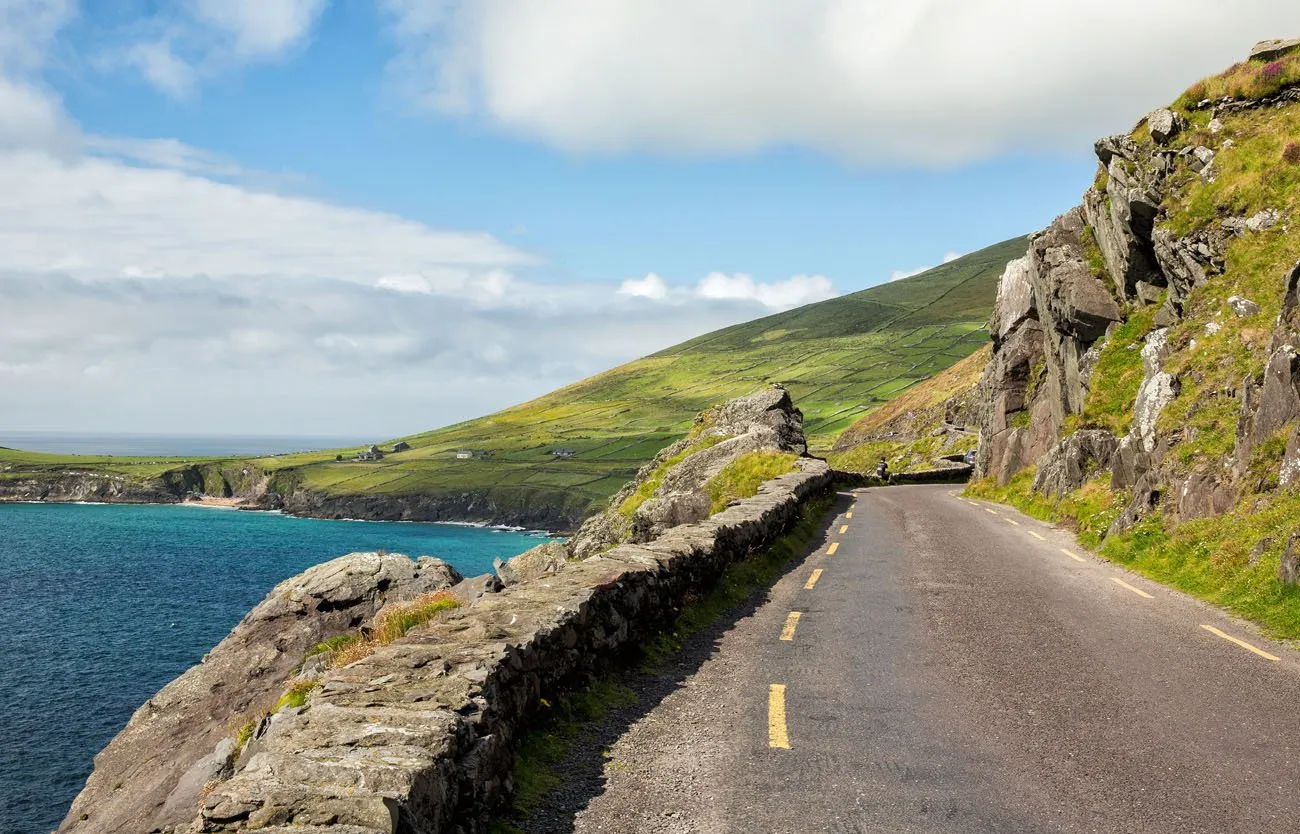 The Dingle Peninsula, Ireland
#10 The Quirks of Manual Transmission
One thing to know about manual transmission is that it's not always as simple as pushing in the clutch and moving the gear shifter to "R". In Europe, some cars require an extra step.
You may have to apply downward pressure on the gear shifter, pull up on the collar of the gear shifter, or even press a button on the collar of the gear shifter, in order to get it to engage into reverse.
Just make sure you know how to put the car in reverse before you drive it off the lot.
---
Have you rented a car in Europe? Are there any tips or tricks about renting a car in Europe that we missed? Comment below and let us know!
Note: The major rental car companies in Europe are Avis, Hertz, Budget, Europcar, and Sixt, and all can be found in Rentalcars1.com
https://rentalcars1.com/wp-content/uploads/2019/02/openroad.jpg
1066
1600
Admin
https://rentalcars1.com/wp-content/uploads/2021/07/Sem-título-2.png
Admin
2020-02-14 13:33:13
2021-06-26 08:42:03
10 Things You Should Know about Renting a Car in Europe